I do all of my online print fulfillment via White House Custom Color. Their quality is amazing, turnaround is quick, frequently shipping within a day or two, and the way they protect and pack their prints for shipping is bulletproof.
They offer a very wide variety of printing options but to make online ordering simpler, I have limited the options I offer directly to the most popular options. If you see something else on their website which you prefer, contact me via email and I will give you a quote for manual fulfillment, which will be drop shipped to your address.
PRINTS
I offer two surfaces , Fuji Lustre and Kodak Glossy. In general, for most of my photography, I prefer Glossy print paper to capture all the color and detail. These prints are intended to be frames behind glass or acryllic. More detail is available on this page at WHCC.
MOUNTED PRINTS
If you prefer to have the image mounted for stability prior to framing, you can use any of these backing options. More detail and other options are available near the bottom of this page at WHCC.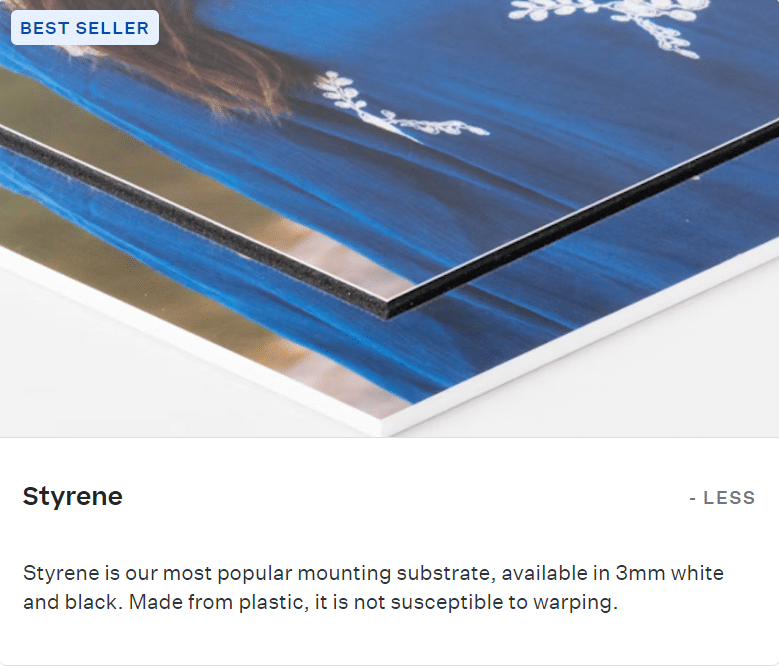 CANVAS GALLERY WRAP
A gallery wrap can be the most economical format for a large format print (larger than 20″ x 30″). These are basically ready to hang, with a 1.5″ image wrap around the wooden frame. Due to the texture of the canvas, I think you lose a tiny bit of crispness in the detail but these are great for landscapes / sunsets / sunrises etc. More information on options is available at this page from WHCC.
METAL PRINTS
I really love the way colors and details pop on these high gloss metal prints. They are my recommendation for wildlife shots with a lot of detail, the crispness is amazing. These are a gloss surface so beware of glare if mounting directly in front of a window with bright sun , etc. More information on options is available at this page from WHCC.
ACRYLLIC PRINTS
In these wall hangings, the photograph is printed onto premium paper and then bonded directly to a clear sheet of acrylic. The result is a very high end appearance with great resolution and detail. These can be directly hung on the wall if ordered with offset frames or float mounts. More information on options is available at this page from WHCC.